So I joined an online book club. It was started by
Angie
&
Jessica
. It is called
Bloom
and the first book is "
Crazy Love
." I just received it yesterday and I haven't started it yet. I am hearing great things about it, so I am ready to jump in and start reading it. For anyone interested here is the button: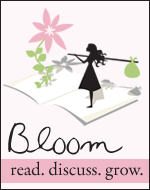 Crazy Love blurb from amazon.com
"Sometimes I feel like when I make decisions that are remotely biblical, people who call themselves Christians are the first to criticize and say I'm crazy, that I'm taking the Bible too literally, or that I'm not thinking about my family's well-being. . . When people gladly sacrifice their time or comfort or home, it is obvious that they trust in the promises of God. Why is it that the story of someone who has actually done what Jesus commands resonates deeply with us, but we then assume we could never do anything so radical or intense? Or why do we call it radical when, to Jesus, it is simply the way it is? The way it should be?"